Biography
Art has played a major role in my life for as long as I remember. When I was in middle school I started doodling cartoons on my notebook covers. I would fill those with fun expressive faces. As I would run out of space on my "makeshift canvas" I would start filling in the spaces with more faces. Since then my unique style has evolved into creative works of art.
My introduction into the world of professional art started with St. Paul's Peanuts statues. I designed and created six statues total. This gave me great exposure as I was featured in the Pioneer Press, Star Tribune, Channel 5 and Channel 9 news for my art. From there I was a known artist. A couple of years later the Science Museum did a promotion for their 100th anniversary and created large dinosaurs for artist to paint. My wife and I created two statues that year. Especially fun was the dino we did for City County Credit Union. We created a dino with my unique and colorful style. It included over 100 cartoon dinos juxtaposed together including City County Credit Union's mascot hidden among them. This was the introduction of my style to the world of public art.
My art is colorful, vibrant, lively, filled with interesting details and above all, fun. I take bright colors and bold forms to create works of art that invite exploration and spark conversation. They are a collection of characters, destinations and landmarks that as a whole depict a series of separate, but interconnected scenes. However, each of these individual figures and scenes in a painting portrays a small, specific facet of the overall experience. My art draws on both graphic illustrations and cartooning techniques while maintaining the level of expressiveness and rigor found in fine art painting. The shadowing, modeling and brush strokes are intergrated with clean, sharp lines showing bold colors. These characteristics carry an urban quality. This techniques creates a sense of narrative, separating individual characters in such a way that it makes them feel as if they are leaping off the canvas.
As an artist that has been working in Minnesota for over ten years, I have a proven track record of creating successful commemorative artwork. I have created custom work for the Saint Paul Winter Carnival, MN Special Olympics, Lakeville Arts Center, Lord Fletcher's, German Fest, as well as the Uptown Art Fair; which commissioned me to create a poster for their 50th anniversary. Many other private collectors and organizations have contracted my services to inspire and produce their custom artwork.
My latest artistic venture is creating public art murals. I have been commissioned by large corporations to exhance their spaces with murals. Mall of America, Regions Hospital, MSP Airport, Calhoun Square, Bell Banks and Sunrise Banks are a few of my recent clients. My colors and style lend itself well to this engaging avenue. I have also been commissioned by many schools and non-profits to create large interactive murals where my team teaches the students/community color theory and different painting techniques. Then under my guidance they paint the mural.
I have been on display in New York, Chicago, and all over the midwest.  My art has also taken me on many exciting adventures. I have traveled internationally inspiring children in foreign countries through art, working on murals in a remote villiage in Chiang Mai, Thailand and local children in St. Thomas, Virgin Islands. Next, I am hoping to work with children in Kenya, Africa and the Faroe Islands.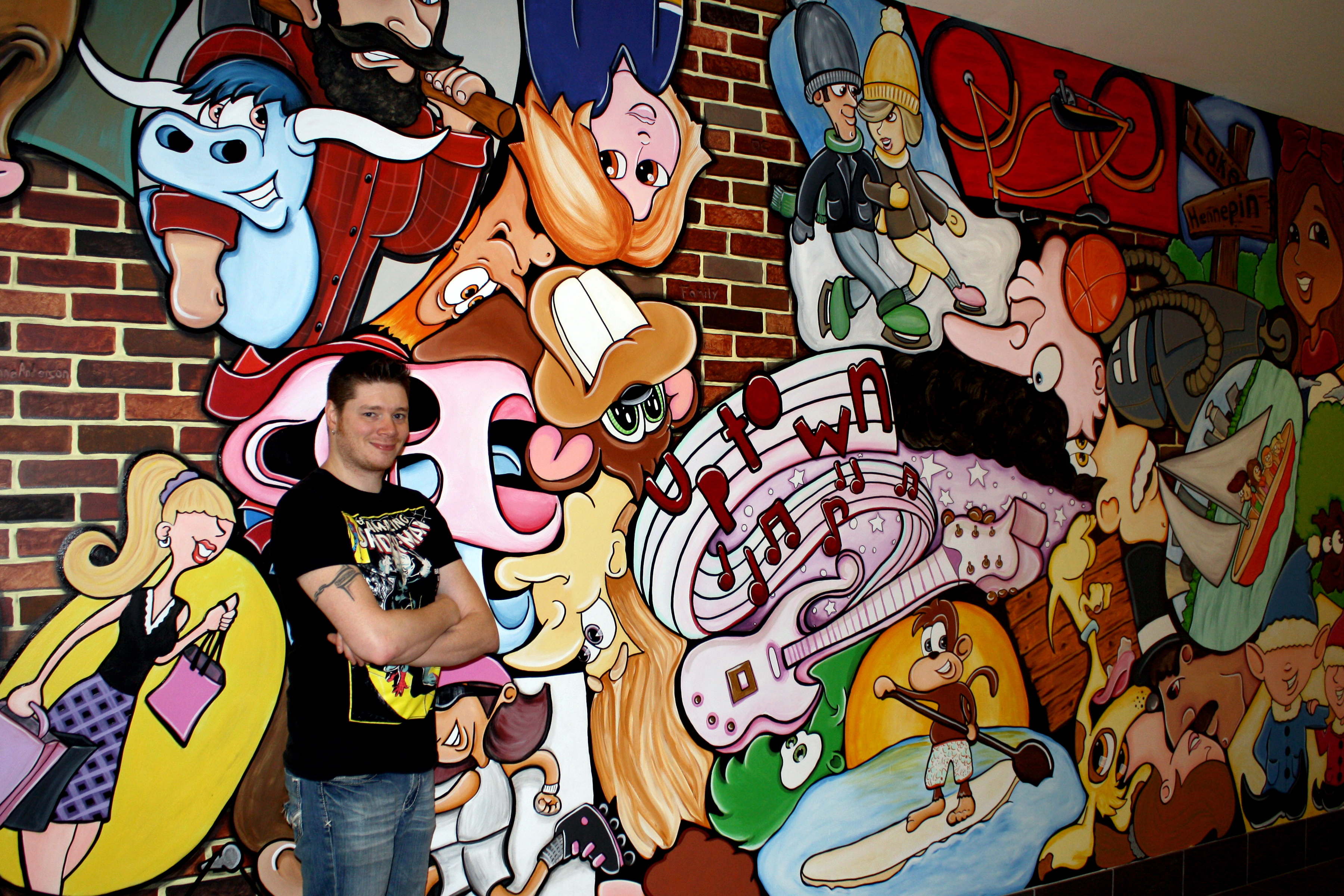 Exhibitions
Group Exhibition – Uptown Up Close, Minneapolis MN – July – August 2015
Solo Exhibition – Flagship Salon, Eden Prarie MN – March  – June 2015
Group Exhibition – Saint Paul Saints – May 2015
Group Exhibition – Tomodachi Us, Roseville  MN – September 2011
Solo Exhibition – 42nd Avenue Station, Minneapolis  MN – July 2011
Solo Exhibition – Lakeville Area Arts Center, Lakeville  MN – February 2011
Group Exhibition – Gallery 13, Minneapolis  MN – November 2009Group Exhibition – Great Rivers Art Gallery, Hastings  MN – 2008- 2009
Group Exhibition – Gingko Coffee House, St. Paul  MN – December 2008
Juried Art Shows & Retail Exhibitions
Uptown Art Fair (2013 – Commemorative Artist, 2014, 2015)
Madison Art on the Square (2013)
Des Moines "the Other Art Show" (2013)
Lakeville Art Festival (2007, 2008, 2009, 2010, 2011, 2012, 2013, 2014, 2015)
Centennial Lakes Art Festival (2009, 2010, 2011, 2012, 2013)
Bayfront Duluth Art Show (2011)
Edina Art Fair (2010, 2011, 2012, 2013, 2014, 2015)
Art a Whirl (2011, 2012 2013, 2014, 2015)
Excelsior Art Fair (2010, 2012, 2013, 2014)
Highland Fine Arts Festival (2009, 2010, 2013)
Maple Grove (2011 – Second Place Best in Show)
Powderhorn Art Festival (2011, 2012)
Loring Park (2010)
Red Hot Art Fair  (2008)
St. Paul Art Crawl (2008, 2009, 2010, 2011)
Stonearch Art Festival (2008, 2009, 2010, 2011)
Eagan Art Fest (2008, 2009, 2010)
Burnsville Art and Jazz (2008)
Wayzata Art Fair (2009, 2010)
Afton Art Fair (2008)
Blaine Fest (2008)
Apple Valley Art Fest (2008)
Brookings Art Fair (2010, 2012)
Rochester Art on First & Third (2013, 2014)
Fine Arts Metro East Exhibit (2010,2011, 2012, 2013, 2014, 2015)
Retail Exhibition – Deck the Walls, Mall of America, Bloomington  MN – 2012 – Present
Retail Exhibition – Deck the Walls, Burnsville Mall, Burnsville  MN – 2012 – Present
Retail Exhibition – Fast Frame, Eagan  MN – 2012
Retail Exhibition – Picture Perfect Art & Frame – 2012
Charitable Donations
Carson Grinnsteiner Benefit – 2014
Wishes & More Foundation Silent Auction (2008,2009,2010, 2011, 2012, 2013, 2014, 2015)
Shriners Hospital Chicago (2008)
Home for Life Sanctuary Silent Auction (2008,2009,2010)
Christ Lutheran Church (2010, 2013)
Washburn Highschool (2011)
Breast Cancer Awareness Silent Auction (2011)
School of Rock Silent Auction (2009,2011)
Jeremiah Program (2010)
Groves Acadamy (2009)
ACS Fundraiser Silent Auction (2009)
Amys Blend Breast Cancer Awareness (2010)
Aflac Childrens Cancer Center (2011)
MN Zoo (2013)
Education
Associates of Arts Degree in Computer Animation
Art Institutes International Minnesota
15 South 9th Street
Minneapolis, MN 55402