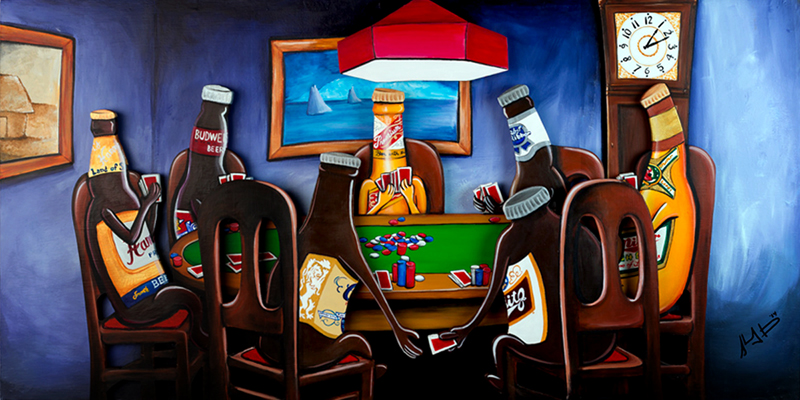 "Good Times with Old Friends" is my newest piece featuring the most popular beers from the 1950's and 1960's. Inspired by artist Cassius Marcellus Coolidge's Dogs Playing Poker Series.  This is the first of a series of beer themed pieces I will be creating.
To visit more pictures please visit my my Facebook page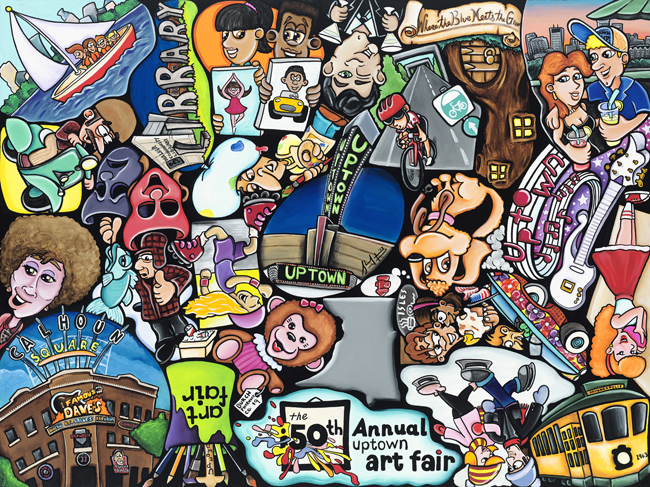 "Uptown Turnaround" was created to commemorate the 50th Anniversary of the Uptown Art Fair.  The original measures 36″ x 48″.  It was a great honor for me as an artist to be the featured / commemorative artist for the Uptown Art Fair.  The piece features some very iconic characters and destinations from Uptown, MN… Past and Present.

To Purchase a Poster Print of Uptown Turnaround Please contact the Uptown Association @ (612) 823-4581
My latest series "Inspirations"  is a take on fine art movements that have influenced me as an artist.  These art movements include Abstract, Pop Art, Surrealism, Fauvism, Op Art and De Stijl.  I created 6 different works of art in these styles.  Not only did I create these beautiful works of art, but when finished I ripped them apart.  I know, it sounds crazy… and for the most part, is was.  The finished paintings turned out to be ground breaking and awesome.
ORIGINAL PAINTINGS PURCHASED BY THE RAYMOND GENSINGER COLLECTION
Click on the Pictures to Enlarge
"Darth Vader's Got Character"  is a custom painted Darth Vader Mask I created for www.halloweencostumes.com.  I was 1 of a hand full of artists selected to paint the masks.  It was a true honor to be a part of this.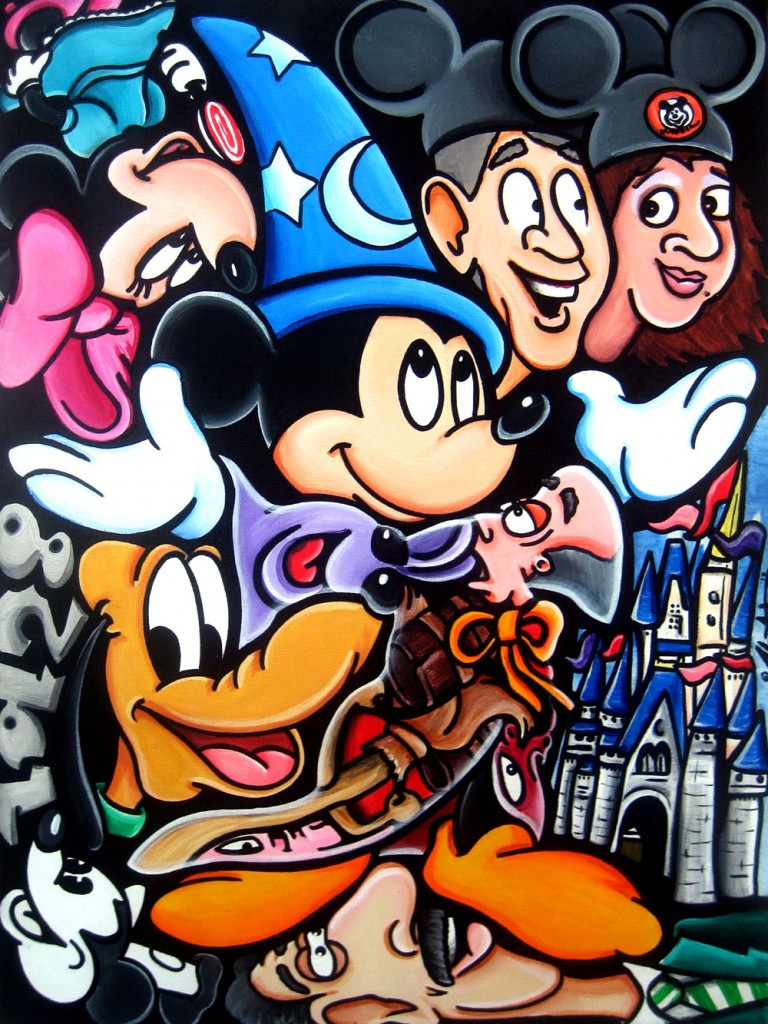 This piece was a very difficult piece to create.  It wasn't the painting part that was difficult. It was trying to grasp my hand around creating a painting based around such an iconic figure like Mickey Mouse.  I decided to create this piece with the intent of celebrating Walt Disney and his ground breaking cartoons.  "The Magic of Mickey" turned out to be a very successful custom painting.
"New Skin" Mega Munny is a large vinyl statue.  The owner of Tomodachi in the Roseville Center is a unique store specializing in toys, anime and pop art!  This was a very fun project for me as I got to expand my art style and think even more outside the box than I usually do.  He is on display at the Tomodachi store in the Roseville Center
http://tomodachi.us/
Art spotlight: St. Paul Art Crawl
Article by: MARY ABBE , Star Tribune
Updated: October 6, 2011 – 3:20 PM
ST. PAUL ART CRAWL
Through Sunday: Why do one-stop shopping when this weekend you can climb thousands of stairs, crowd into fun freight elevators, roam through hundreds of artist studios sprawled all over St. Paul and find just that perfect one-of-a-kind treasure? Who knows, it may even fit over the sofa. Such are the pleasures of the St. Paul Art Crawl. And besides the myriad painters, potters, glass artists, leather workers, photographers and other talents, there will be performances — piano, folk guitar, magic, new music, hip-hop, New Orleans brass — and food, and art cars. Don't forget the art cars. Shane Anderson is the wild guy responsible for the exuberant cartoon heads shown here. All this on the streets, in cafes and in 250 artists' studios sprawled from Lowertown to Raymond Avenue, and anywhere artists might hang out. Which is pretty much all over. So grab your wallet and go.
6-10 p.m. Fri 10/7., noon-8 p.m. Sat 10/8., noon-5 p.m. Sun 10/9.
Free.